Jerry 'Psycho' Seinfeld

There has been a leek at NBC studios that Jerry Seinfeld
abused and attacked other cast members! Check out THESE
Seinfeld pictures.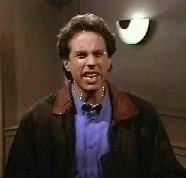 "...you didn't want to piss him off cause he had a temper!" -Seinfeld producer
Kramer messed up one of his lines and Jerry goes into a rage.
---
Pages:
Beginning
Jerry Attacks George
Jerry Attacks Elaine
Jerry Attacks Kramer
---